Things to Know When Clearing Wooded Land
When clearing wooded land, there are a few things you should keep in mind. First, make sure that your project complies with local zoning laws. You may have to get a permit to begin, or you might have to consider the presence of endangered species. Clearing wooded lands can be a great way to increase income and reduce spread. Clearing wooded land can also reduce environmental impact and improve traffic flow. By following these tips, you can make clearing woodlands a successful venture.
(Looking for a site preparation company, Contact us today!)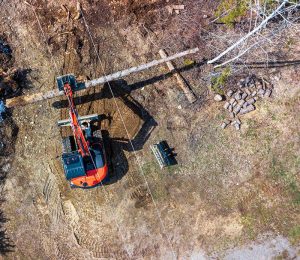 Prescribed burn when clearing wooded land
To safely carry out a prescribed burn when clearing wooded land, it is important to follow specific procedures. For example, you must notify your local fire department and law enforcement officials to get approval. Additionally, it is vital to check the weather forecast before starting the burn. If the weather conditions are bad, you may have to reschedule your burn. You can change your date by logging in to the ePermitting system and making the necessary changes. However, make sure that you update your date before 11:59 p.m. If you miss this deadline, you'll have to begin again and get approval. 
Using a bladed trimmer
If you're clearing wooded land, you'll need the right tools to get the job done. Using the right equipment can make the process easier and reduce costs. Using a bladed trimmer makes it easy to cut small saplings down to about four inches. 
Using a tractor
There are several advantages to using a tractor when clearing wooded land. The best tractor is the one that is powerful enough to handle the task. It is also capable of handling a wide range of jobs, including grading, clearing, and leveling the land. You can also use a front-end loader to remove trees, stumps, and other debris. These machines can be very helpful when clearing wooded land for building, farming, or ranching. 
Using a bulldozer
One of the most popular methods of clearing wooded land is using a bulldozer. This machinery is capable of clearing large areas and can also remove stumps. However, it can also cause extensive soil damage. In some cases, it may be a better option to use a chainsaw or other means to clear the land. 
Using a backhoe when clearing wooded land involves
Using a backhoe when clearing wooded land involves a process of uprooting the trees and removing their roots and branches. It is a very effective way to remove trees and other vegetation from the landscape. Once a wooded area has been cleared, it is possible to bring in another crew to process the wood. This second crew will help remove smaller trees and brush. 
Using a skid steer
If you're in the process of clearing a large area of land, you might want to consider a skid steer. This type of heavy equipment can handle tough terrains without causing a mess, and it also comes with several attachments. This type of machine also offers excellent speed and agility.