How to Mark Land For Clearing
Before you start your clearing project, you'll need to mark the site properly. This is known as rough staking, and it involves marking out the perimeters of the site. After you've marked out the perimeters, you'll need to plan your project and check with the building and zoning departments. A contractor can help you with this step if you don't have the experience and know-how to do it yourself.
(To know more about site preparation in construction, visit our website!)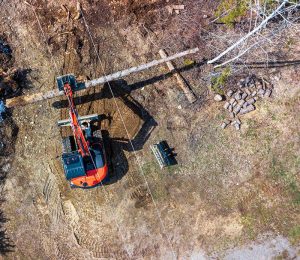 Rough staking involves setting out the site perimeters
Staking is the process of setting out the perimeters of a site for a building project. There are two types of staking: rough staking and detailed staking. The former involves setting out the perimeters of a site to determine its size and shape relative to the final grade elevation, and the latter involves setting out the site's final elevation reference. Rough staking is commonly done before clearing a site for a building project, and it is often used to determine slopes, parking areas, and other improvements. The latter is more detailed and will be followed by actual construction work.
During the process of rough staking, surveyors place stakes to represent various elements of a project. They represent everything from building walls to storm drainage flow. These stakes are crucial to the project, and they must correspond to the project's plan.
Planning the project
Clearing land is not a simple project and requires proper planning and preparation. Hiring a professional to help you with the project can make the process go much faster and smoother. Professionals are familiar with local laws and permits and have the appropriate equipment to do the job safely. However, you can also do the project yourself with a little research and planning.
Whether you're clearing land for construction, recreation, or a farm, it's critical to plan ahead. For example, you'll want to make sure you have access roads for the equipment. A poorly-maintained road will make your project messy and unsafe. You'll also want to make sure emergency vehicles can reach the site if there's an emergency. A well-planned project will account for any necessary costs, timeframe, and subcontractors. In addition, the plan will help you schedule the project properly so you don't waste money or time.
Hiring a contractor
Hiring a contractor to mark land for clearance can help you achieve several benefits. It will help you get a clear understanding of the terrain of the property, determine the proper depth for foundations, and identify any restrictions on the property. A clear map of the boundaries will also make it easier to visualize your ideal property layout. Many construction projects also require the installation of septic systems or wells.
Before you hire a land clearing contractor, you must ensure that they are insured. This will protect you in case they cause damage or injuries to your property. In addition, you must make sure that the contractor has the necessary equipment to complete the clearing job in the time specified. You should also make sure that the contractor has all the necessary permits and insurance. The contractor should also be able to show you hard copies of their licenses and documents.
Cleaning up after clearing
Before you begin clearing land, you must carefully plan the process. You must consider how you will access the lot, the drainage system, and the weather. For example, clearing a field of wildflowers will be much easier than clearing a forested lot. You must also be aware of plants that are toxic or can grow close to the land. In this regard, it is important to cut down smaller plants first and then move on to larger trees.
Marking land can be a slow process. It is best to mark a small portion of the land at a time and seed it with appropriate grass. This way, you can minimize the chance of accidentally destroying the surrounding landscaping.